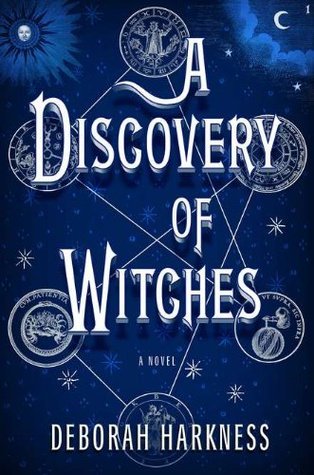 A Discovery of Witches by Deborah Harkness
Published December 27th 2011 by Penguin Books (first published January 1st 2011)
579 Pages
Goodreads Summary: Deep in the stacks of Oxford's Bodleian Library, young scholar Diana Bishop unwittingly calls up a bewitched alchemical manuscript in the course of her research. Descended from an old and distinguished line of witches, Diana wants nothing to do with sorcery; so after a furtive glance and a few notes, she banishes the book to the stacks. But her discovery sets a fantastical underworld stirring, and a horde of daemons, witches, and vampires soon descends upon the library. Diana has stumbled upon a coveted treasure lost for centuries-and she is the only creature who can break its spell.
Debut novelist Deborah Harkness has crafted a mesmerizing and addictive read, equal parts history and magic, romance and suspense. Diana is a bold heroine who meets her equal in vampire geneticist Matthew Clairmont, and gradually warms up to him as their alliance deepens into an intimacy that violates age-old taboos. This smart, sophisticated story harks back to the novels of Anne Rice, but it is as contemporary and sensual as the Twilight series-with an extra serving of historical realism.
Review: I am so glad that I finally got around to reading this book.  I have always had a big interest in witches and witchcraft.  And to combine that all with vampires and other supernatural creatures just made it that much better.  If you read the summary I included in this review and you're not a fan of Twilight… don't let that little mention scare you away because this is really nothing like Twilight.  The book was a little slow moving at first but it was still enough to keep me interested.  I'm so glad I kept on reading because I really did enjoy this book.  I loved all of the characters, especially Matthew.  I loved his and Diana's relationship.  This story could have been your typical witch coming into her power type but it was so much more than that.  I really love how history was incorporated into the story and can't wait to get even more history in the second book.
4/5 Stars