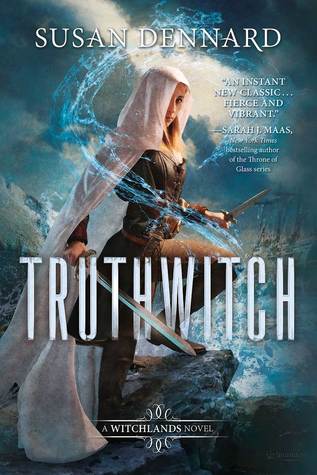 Truthwitch by Susan Dennard
Published January 5th 2016 by Tor Teen
415 Pages
Goodreads Summary: On a continent ruled by three empires, some are born with a "witchery," a magical skill that sets them apart from others.
In the Witchlands, there are almost as many types of magic as there are ways to get in trouble—as two desperate young women know all too well.
Safiya is a Truthwitch, able to discern truth from lie. It's a powerful magic that many would kill to have on their side, especially amongst the nobility to which Safi was born. So Safi must keep her gift hidden, lest she be used as a pawn in the struggle between empires.
Iseult, a Threadwitch, can see the invisible ties that bind and entangle the lives around her—but she cannot see the bonds that touch her own heart. Her unlikely friendship with Safi has taken her from life as an outcast into one of reckless adventure, where she is a cool, wary balance to Safi's hotheaded impulsiveness.
Safi and Iseult just want to be free to live their own lives, but war is coming to the Witchlands. With the help of the cunning Prince Merik (a Windwitch and ship's captain) and the hindrance of a Bloodwitch bent on revenge, the friends must fight emperors, princes, and mercenaries alike, who will stop at nothing to get their hands on a Truthwitch.
Review: Back in December I was approved for an ARC excerpt from NetGalley.  I didn't even have to read the whole excerpt before I knew I was going to love this book and so I preordered it.  When I got my preorder, I set it off to the side for a bit to avoid the inevitable hype monster.  I finally read it in March and completely fell in love with it.  There was so much action, which is almost kind of rare in the first book of a new fantasy series.  Normally the first book of a new fantasy series is filled with world building and character development.  One of the big things that I loved about this book was the balance between the world building, character development and the action.  Nothing was really overshadowed so it felt like a complete story.  I loved the two main characters, Safi and Iseult. The world building was fantastic.  I loved putting all of the descriptions to work in my head visualizing this new place.  It was very easy to do the way the author explained things.  All of the action, especially that involving the Bloodwitch was so nerve wracking and heart pounding.  This book caused a lot of adrenaline rushes.  I could not put this book down once I started it.  I even stayed up late one night because I just could not put it down.  I had to finish it even though I still had quite a bit of it left.  Totally worth it though.  There are a lot of mixed reviews but  I completely loved this book and I really can't wait until the sequel comes out!
5 Stars