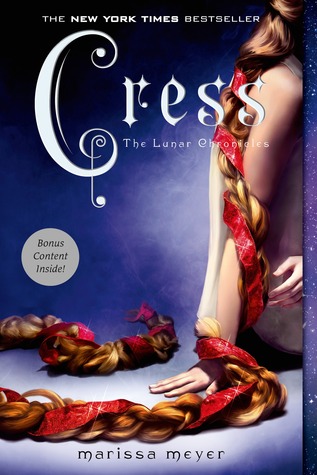 Published: January 27, 2015 by Square Fish (first published February 4, 2014)
Pages: 592
Goodreads Summary: Cinder and Captain Thorne are fugitives on the run, with Scarlet and Wolf in tow. Together they're plotting to overthrow Queen Levana and her army.
Their best hope lies with Cress, who has been trapped on a satellite since childhood with only her netscreens as company. All that screen time has made Cress an excellent hacker; unfortunately, she's just received orders from Levana to track down Cinder and her handsome accomplice.
When a daring rescue goes awry, the group is separated. Cress finally has her freedom, but it comes at a high price. Meanwhile, Queen Levana will let nothing stop her marriage to Emperor Kai. Cress, Scarlet, and Cinder may not have signed up to save the world, but they may be the only ones who can.
Review: I loved this book!  So far I think it is my favorite of the series.  I love having Cinder, Scarlet and Cress all in the same book.  Cress is an awesome character!  To be trapped on a satellite for years and have your only rescue attempt foiled by the woman who trapped you there, she doesn't give up even though she and Thorne are virtually hurtling through space to an almost certain death.  And even after landing in the Sahara, still alive, they keep on going not ready to give up.  I loved the interactions with Thorne and Cinder.  Funny and cute all at the same time.  There is so much action in this book too!  Plenty of adrenaline rushes to be had as the gang hit hurdle after hurdle on their quest to free Kai from marrying Levana.  And after Princess Winter's introduction in the series I am so intrigued to find out what happens next!
5/5 stars!