Hey everyone! I hope you all had a great weekend! Most of my weekend was cleaning house and getting ready for this winter storm that started this morning.  We're supposed to get 12+ inches where I live.  Not looking forward to it. But anyways…  One of the things I did this weekend when I was cleaning was to tidy and dust my bookshelves.  And I had just enough light to take some photos.
These are only three of my bookshelves but they are the only ones that fit in our office space right now. Eventually when my parents move out, the whole room will be mine so I will be getting my full wall of shelves that I've always wanted.  I also took a few closeup shots of some of my favorite shelves.
My Game of Thrones and Lord of the Rings shelf!  I have so many GoT Funkos that I ran out of room and had to move some to the shelf below it.  Same with LOTR.  The Balrog is also sitting on my desktop PC because it's so big!
My lovely Laini Taylor shelf!  Definitely going to need more space for some Strange the Dreamer paperbacks and room for the sequel and any other book she writes in the future! And I am still so in love with my custom Karou funko from Cait @ A Page With A View (link to her Etsy shop here)!  She does great work on all her custom Funkos! I NEED to get the Alina and The Darkling Funkos that she has for my Leigh Bardugo shelf!
Eventually Leigh will need enough space for her own shelf completely but for now she shares with a couple of my other favorites – Susan Dennard and Mary E. Pearson!  Completely random placement for Meiko and Pocahontas, I know, but don't really have anywhere else to put them at the moment haha.
I can't wait to get the new shelves I want because I'm running out of room for my favorite authors! My Jay Kristoff shelf is going to be overflowing this year with LIFEL1K3, Obsidio, and hopefully Nevernight #3 coming out! Plus, I need the Godsgrave paperbacks when those release haha.
Coming up this weekend, Ethan and I are both taking Friday off work for our 6th wedding anniversary and heading up north!  I'm so excited to go back up and the weather is going to be great for this time of year.  I'm really looking forward to some time out in the fresh clean air and just relaxing for the weekend.
In book news, I'm currently reading The Cruel Prince and even though I didn't get any reading done this weekend I am loving it! Target had it for 15% off on Cartwheel so I ended up picking up a copy on Friday after work.  I'm hoping to get up to a Barnes & Noble sometime soon to try and find a copy of their exclusive black cover edition.
I have a few ARCs in my pipeline as well.  I was recently invited to review three upcoming titles for Ballantine Books, Simon & Schuster, and St. Martin's Press.
---
PAPER GHOSTS by Julia Heaberlin (4/17/18) Ballantine Books
An obsessive young woman has been waiting half her life—since she was twelve years old—for this moment. She has planned. Researched. Trained. Imagined every scenario. Now she is almost certain the man who kidnapped and murdered her sister sits in the passenger seat beside her.
Carl Louis Feldman is a documentary photographer. The young woman claims to be his long-lost daughter. He doesn't believe her. He claims no memory of murdering girls across Texas, in a string of places where he shot eerie pictures. She doesn't believe him.
Determined to find the truth, she lures him out of a halfway house and proposes a dangerous idea: a ten-day road trip, just the two of them, to examine cold cases linked to his haunting photographs.
Is he a liar or a broken old man? Is he a pathological con artist? Or is she? Julia Heaberlin once again swerves the serial killer genre in a new direction. With taut, captivating prose, Heaberlin deftly explores the ghosts that live in our minds—and the ones that stare back from photographs. You won't see the final, terrifying twist spinning your way until the very last mile.
---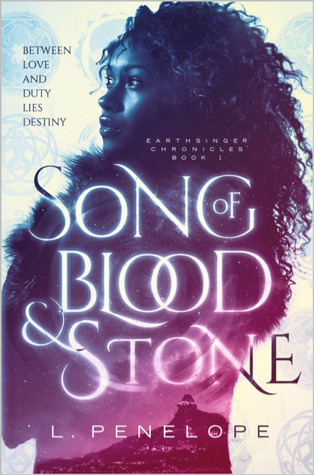 SONG OF BLOOD & STONE by L. Penelope (5/1/18) St. Martin's Press
Orphaned and alone, Jasminda lives in a land where cold whispers of invasion and war linger on the wind. Jasminda herself is an outcast in her homeland of Elsira, where her gift of Earthsong is feared. When ruthless soldiers seek refuge in her isolated cabin, they bring with them a captive–an injured spy who threatens to steal her heart.
Jack's mission behind enemy lines to prove that the Mantle between Elsira and Lagamiri is about to fall nearly cost him his life, but he is saved by the healing Song of a mysterious young woman. Now he must do whatever it takes to save Elsira and it's people from the True Father and he needs Jasminda's Earthsong to do it. They escape their ruthless captors and together they embark on a perilous journey to save Elsira and to uncover the secrets of The Queen Who Sleeps.
Thrust into a hostile society, Jasminda and Jack must rely on one another even as secrets jeopardize their bond. As an ancient evil gains power, Jasminda races to unlock a mystery that promises salvation.
The fates of two nations hang in the balance as Jasminda and Jack must choose between love and duty to fulfill their destinies and end the war.
---
SCHOOL FOR PSYCHICS by K. C. Archer (4/3/18) Simon & Schuster
An entrancing new series starring a funny, impulsive, and sometimes self-congratulatory young woman who discovers she has psychic abilities—and then must decide whether she will use her skills for good or…not.
Teddy Cannon isn't your typical twenty-something woman. She's resourceful. She's bright. She's scrappy. She can also read people with uncanny precision. What she doesn't realize: she's actually psychic.
When a series of bad decisions leads Teddy to a run-in with the police, a mysterious stranger intervenes. He invites her to apply to the School for Psychics, a facility hidden off the coast of San Francisco where students are trained like Delta Force operatives: it's competitive, cutthroat, and highly secretive. They'll learn telepathy, telekinesis, investigative skills, and SWAT tactics. And if students survive their training, they go on to serve at the highest levels of government, using their skills to protect America, and the world.
In class, Teddy befriends Lucas, a rebel without a cause who can start and manipulate fire; Jillian, a hipster who can mediate communication between animals and humans; and Molly, a hacker who can apprehend the emotional state of another individual. But just as Teddy feels like she's found where she might belong, strange things begin to happen: break-ins, missing students, and more. It leads Teddy to accept a dangerous mission that will ultimately cause her to question everything—her teachers, her friends, her family, and even herself.
Set in a world very much like our own, School for Psychics is the first book in a stay-up-all night series.
---
Have any exciting reads that you're planning or other exciting things in general?